Wisconsin Highlands
The Wisconsin Highlands module set, designed and built by Gary Seymour of West Bend, WI, has been a frequent feature of Capital City "N"Gineers layouts since their construction.  They have often been used as one end of the layout at many shows, but they were designed so that they could be used in several different configurations.
Description
Wisconsin Highlands is an imaginary location on the Great Northern Railway. It consists of six NTrak modules with a private track on four of the modules.  The modules are all 4-foot NTrak modules.
The Village of Hodag features a mine, a sawmill, and the Hodag monster itself. The village occupies the two center straight modules.
The Roundhouse Corner features Great Northern Railway steam locomotives.
The Kettle Moraine Corner module features six glacial formations.
The Hodag Yard features engine and car facilities and small commercial buildings. It covers two straight modules.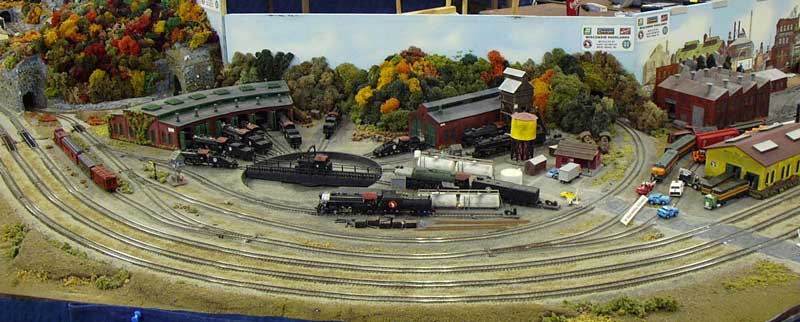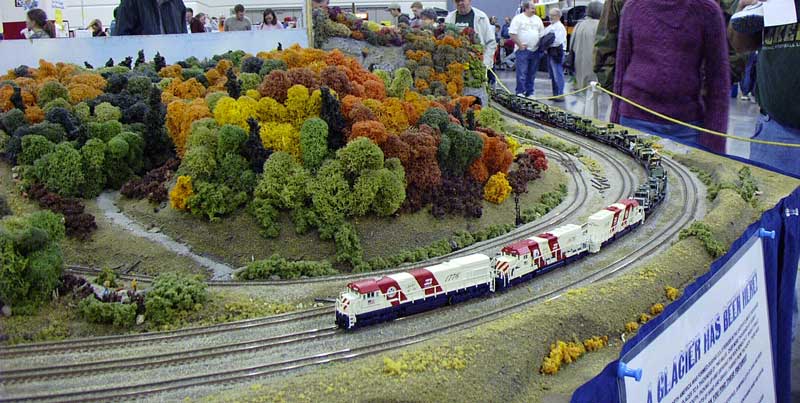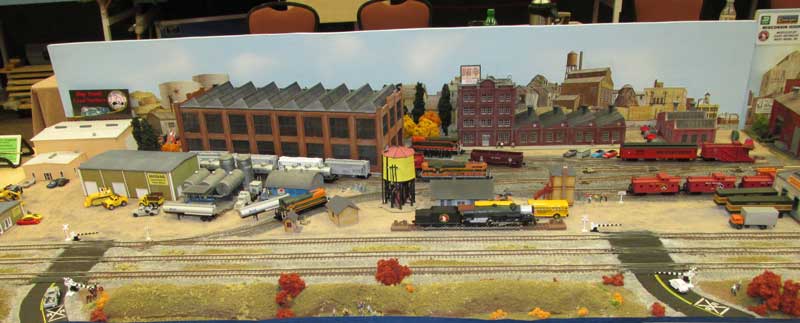 There is a continuous upper loop across the two Hodag modules and a lower loop across the Hodag modules and the Kettle Moraine and Roundhouse modules. They are connected by an 8-degree crossover in the 6-inch space behind the skyboard. Several switches allow the modules to be exhibited and run in a number of combinations.
The smallest radius is 9¾" on the upper loop and parts of the lower loop. Since there is only one block, and it is not connected in any way to the NTRAK mains, wiring is direct and simple. The trains run continually in one direction. The sidings and switches in the space behind the skyboard allow the operator to run one train around both loops or one train on each loop.
Since the trains must climb and descend around the loops and, at times, pass over one another, a series of tunnels periodically hide the trains from view. Children of all ages enjoy watching the trains appear and disappear as they traverse the modules.
Above is a diagram of the track layout showing the placement of the private track loops (click the image for a larger version).
Construction
This module set was built by Gary Seymour.
The basic scenery is one-inch construction foam board insulation. Cut to needed sizes, they were glued together and carved into various shapes. This base was then covered with Modeling Paste (a finely ground marble powder and polymer emulsion) where rocks are simulated. This material is water soluble, so it can be mixed with water to whatever thickness is needed, and carved as desired; once set, it will not crack. Gary then painted the surface with water-based acrylic paint. The non-rock surfaces were painted and, while wet, covered with various colors, types and textures of ground cover. The trees are mostly colored lichen and ground foam rubber clusters (not clumps) by Woodland Scenics. The tops of some garden plants, such as sedum and yarrow, were also used. A mixture of four parts water and one part Matte Medium was mixed together, with a drop or two of dish detergent, and sprayed liberally over all the rock and ground surfaces to dull coloration and to act as an adhesive for the scenery. [Matte Medium and Modeling Paste are available at Hobby Lobby or most artist supply stores.]
Show appearances
Trainfest 2001
Mad City Model Railroad Show, 2012
Mad City Model Railroad Show, 2013
Trainfest 2013
Awards